Date updated: 02/27/2023
Blue Stone Castle
The Blue Stone or Modrý Kameň Castle is situated on a rock at the foot of Kalvářský vrch, from which the Krupínská planina begins.
It was named after the colour of the building stone (or gate) from which it was built. It is an original monumental area - the ruins of the upper castle are structurally connected with the manor house in the nearby fort, on a rocky promontory (approx. 350 m above sea level). The town of the same name, spread out below, is surrounded by chestnut groves. They are scattered over the surrounding hills. According to legend, the trees were planted here by the Turks.
The origins of the castle are documented in written sources in 1285. The plaque indicates that the castle was flourishing before the Tatar invasion. The alleged builder of the castle, Petra Forró, a direct ancestor of the Balaša family, is also mentioned in the ancient document.
After the battle of Mohács in 1526, when the Hungarian army was crushingly defeated, the Turks began threatening the territory of Novohrad. The strategic location of the castle meant its growing importance in defence of mining towns. In 1530 the fortification began to be reinforced.
Nevertheless, the Turks succeeded in capturing the castle in 1575 after a three-day siege. At the end of the 16th century it was recaptured by the Hungarians. But the ruined structure fell into disrepair. Sigismund Balaša (Žigmund Balaša) took care of its complete reconstruction in 1609-1612. The Turks retook the castle in 1659.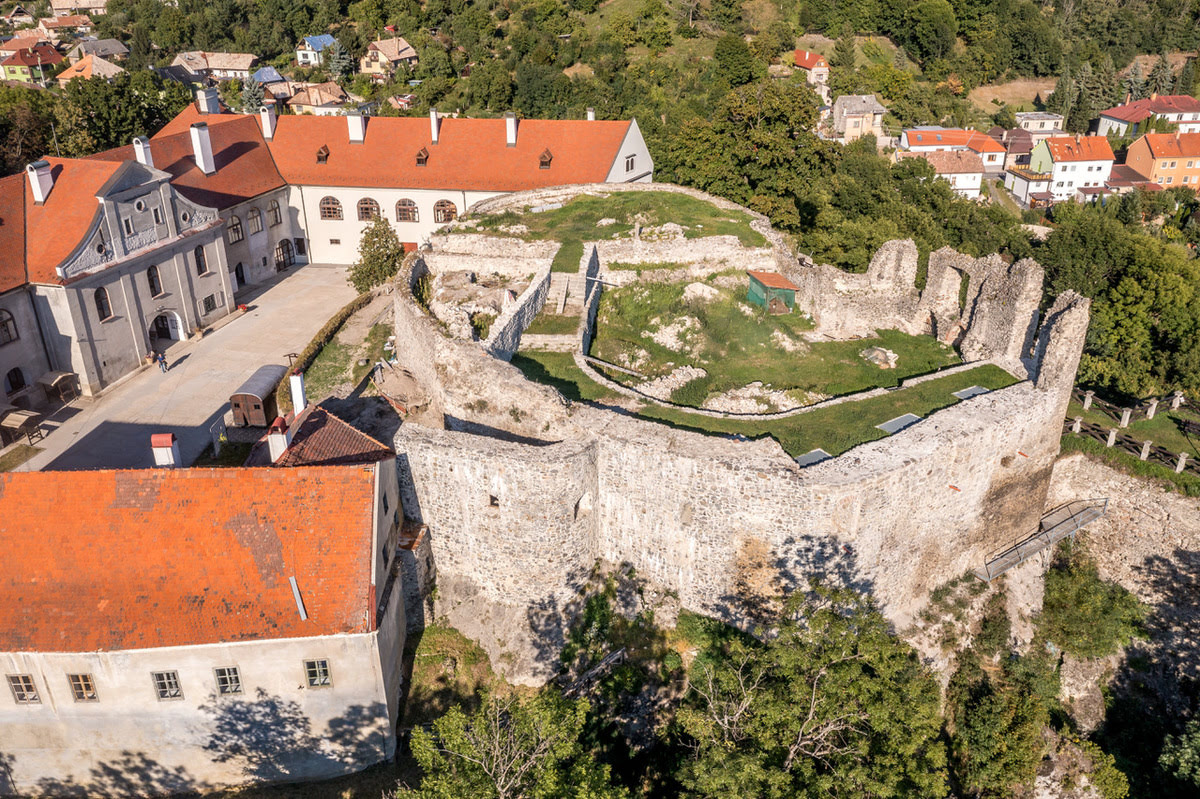 The town of Modri Kamen received the right to hold fairs on certain days of the year. The original of the historical imperial document dated October 6, 1658 is kept in the State Archives in Veľkom Krtíši (Veľkom Krtíši).
During the Rakoczi uprising (1703 - 1711) Modri Kamen Castle became a refuge for Novohrad nobility. Rebels left the castle in 1709. It was set on fire and destroyed. The ruins of the upper part were later rebuilt into a garden. In 1759 Pavol Balaša, "Apostolic Count", built the last annex of the manor, the Chapel of St. Anne. At the same time, Golgotha - a place of pilgrimage near the castle - was founded.
In 1890 it was purchased by Earl Tibor Károlyi. After the establishment of the First Republic, the state bought all the land. The town acquired the status of a county town. At that time the manor house housed administrative departments. In 60s of the last century there was a pharmacy, later an archive and district museum. Múzeum bábkarských kultúr a hračiek was opened in 2002.