Date updated: 03/06/2023
New Castle
The New Castle is the main and most noticeable landmark, the operating museum of Banská Štiavnica.
It is also called Panenský or Dievčenský hrad (Maiden's Castle, Maiden's Castle). The location - Frauenberg Hill.
History of the New Castle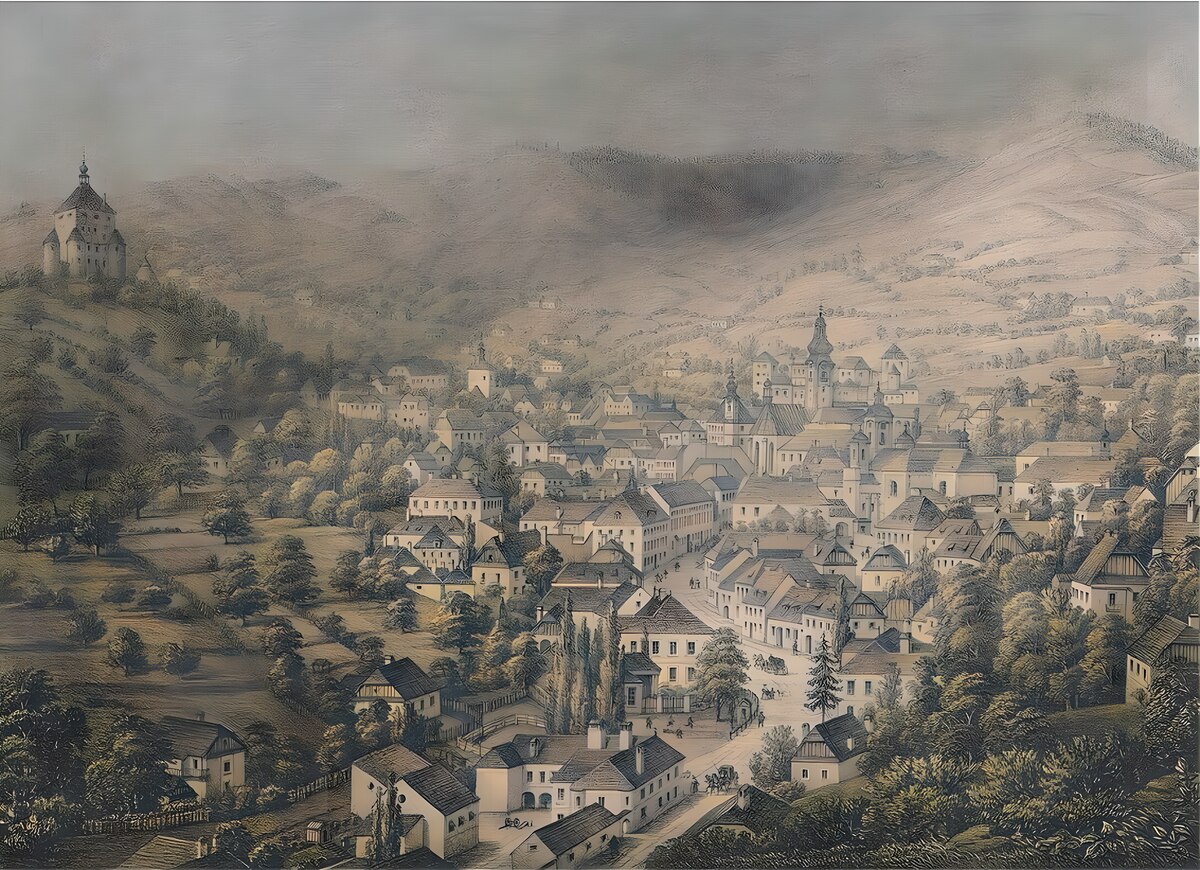 Banská Štiavnica, Hugo Löschinger 1800-1900
The Renaissance-style fortress, which was supposed to protect the locals from Turkish invaders, was built in 1564-1571. The new castle served as an important part of the overall system of military fortifications and a watchtower. Such signal constructions helped to detect enemy movements in time and to be well prepared for defence. Until 1848 the castle was equipped with 21 cannons. The Maiden's Castle was part of a centralised defence network of Slovak villages (seven Banská towns - Pukanec, Nová Banya, Banská Štiavnica, Banská Bela, Kremnica, Banská Bystrica and Lubietova). In the Middle Ages it stretched from Levice to Ljubjitova. After the end of the Turkish wars, the structure served as a gunpowder storage facility. Later a fire brigade with the interesting and rather unusual name of "The Living Clock" was stationed there.
Present time
The exhibitions in the castle tell a story of military life during the defence of the castle against the Ottomans. You can see with your own eyes just how strenuously the fort's defences were built. Weapons used by Hungarian and Turkish soldiers are shown along with colourful, painted targets. These have been in use since the Turkish conquests. There are photographs of members of the Kohari family, who made a significant contribution to the fight against the Turks during their time.
The historical period of hard fighting against the Turkish conquerors was a time of continuous searching for new and effective military means. In the castle you can see, for example, an unusual sixteenth century cannon with seven barrels. There are also a large number of Turkish scimitars, castle defensive cannons and special resin sticks for igniting gunpowder. Also of interest are life-size sculptures of Turkish soldiers, original oriental interiors, a guardroom of the Hungarian army and much more.
Fire Brigade Exhibit
You can trace the glorious history of the fire service from beginning to end in the New Castle Museum. It is one of the oldest fire brigades in Slovakia. It was set up as far back as 1873. The museum boasts a unique flag, issued to the unit in 1877, parade helmets, uniforms, fire-fighting and musical instruments, and many priceless photographs.
Excursion activities are organised in the town. You can pick up a full interactive tour of all the sights of Banská Štiavnica. From the top of the New Castle you can see a panoramic view of the entire city centre with its original historic quarters. After visiting the museums, it will be very interesting to compare the modern layout of the place with photographs of different periods of town planning.