Date updated: 03/07/2023
Castle Strečno
Strečniansky Hrad or Strečno Castle dates back to the end of the 13th and beginning of the 14th century, the exact date of its construction is unknown, but it was definitely before 1321. The fortress served to protect trade routes and collect taxes. The first written mention of the Strecno fortress tax collection dates back to 1358. The castle was built on a 100 meter high limestone mountain. The building seems to sprout from the stone, being an extension of it. Surrounding the impregnable castle is the full-flowing river Váh, creating an additional natural barrier. Several versions suggest that the castle was owned by the uncrowned king of Central and Western Slovakia Matúš Čák. One claim is that he built it himself, while another claim is that he bought it or acquired it from the Balaš family.
After the death of Matúš Čák in 1321, the castle was conquered by the army of King Charles I. Róbert of Hungary, and thus, it became the property of the Hungarian Crown.
The first reports of a private owner date back to 1397, when the Polish nobleman Sędziwój Ostroróg was the owner, but the castle soon reverted to the Hungarian crown.
In 1424, Sigismund I of Luxembourg (Žigmund Luxemburský) donated the castle of Strecnjansky Castle and Trenčiansky Castle to his wife Barbara Celjská. The northern palace and chateau chapel were built during her reign. Approximately from the middle of the 15th century the owners of the castle changed frequently. In 1529 the new owners were brothers Peter Kostka and Mikuláš Kostka. It was the period of struggle for the throne between Ferdinand I (Ferdinand I) and Ján I Zapolyai (Ján I). They received the castle as a gift for defecting to Ferdinand I.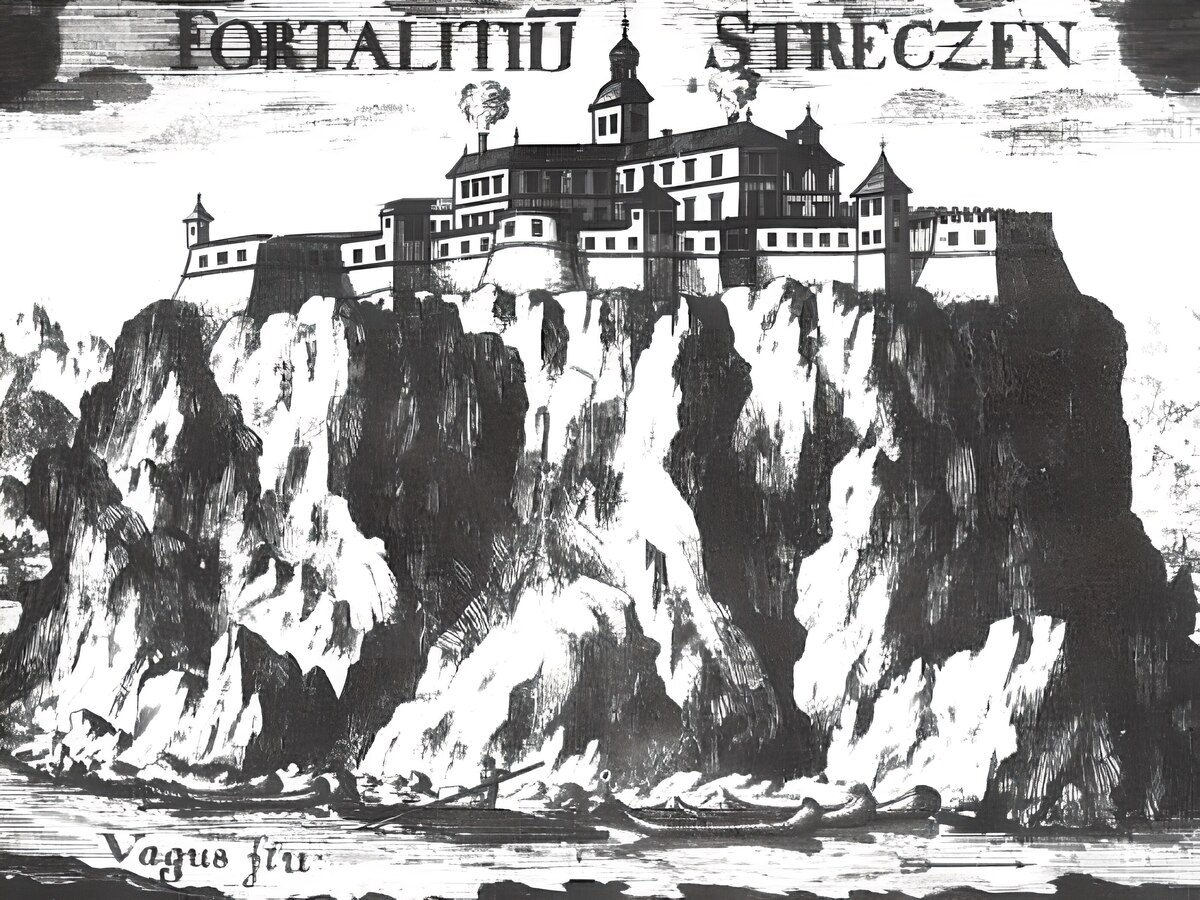 Castle Strečno, 1680
In the 17th century, Střečná Hrad became the property of the Vešeléni family, who rebuilt it into a modern fortress. In 1665, František Vešeléni joined the anti-Habsburg conspiracy, but after the conspiracy was uncovered and František Vešeléni died in 1667, all the property was confiscated. The Tököli family becomes the owner.
In 1678 Imrich Tököli leads a rebellion against the Habsburgs. This uprising went down in history as: "Povstanie Imricha Tököliho" (Imrich Tököli Rebellion). As the castle was one of the sites of the uprising, it was burnt down by imperial troops on the orders of Holy Roman Emperor Leopold I. The castle has remained in ruins ever since.
In 1970, Střečnany Castle was declared a national cultural monument, and restoration works were initiated in 1974 and lasted 21 years.