Date updated: 05/20/2023
Čičmany
Slovakia is home to many charming villages, each with its own history and culture. One of them is a village called Čičmany (Cheechman). The village is located in Žilinský kraj at an altitude of 655 metres above sea level. Its main feature is unusual houses with the walls decorated with geometric patterns. These unusual patterns can be seen on the national costumes of the locals.
There are two folk architecture sites in Číčmany that are managed by the Považské múzeum (Považské Museum), while the rest are privately owned.
History and everyday life
According to historical data, the first mention of this unusual settlement dates back to 1272. The locals were famous for making various knitted goods, they also produced fabrics with original patterns and painted embroidery, and raised goats. Over time, they started producing natural felt boots, which were additionally decorated with various appliqués.
Over the centuries, the people of Čičmany have continued to maintain their national and cultural identity, leading to the development of unique architecture and handicrafts.
Most of the Čičmany are one-storey buildings, but there are also two-storey houses. In the old days, several families lived here at the same time. Parents lived on the ground floor and children lived with their family on the first floor. The central part of the house had a huge cooker and several cookers.
There have been several major fires in the history of the village of Čičmany that have left serious traces in its architecture. One of them occurred in 1921, when one of the wooden huts caught fire. The fire quickly spread to neighbouring houses and eventually burnt down 56 of the 68 houses in the village. This was followed by a large-scale rebuilding of the Chichmans.
In 1977 Čičmany was recognised as a national cultural monument of Slovakia and was included in the UNESCO World Heritage List in 2008. Today the village attracts many tourists who want to enjoy the beautiful architecture and learn more about Slovakia's cultural heritage.
The Cheechman pattern (Čičmianský vzor)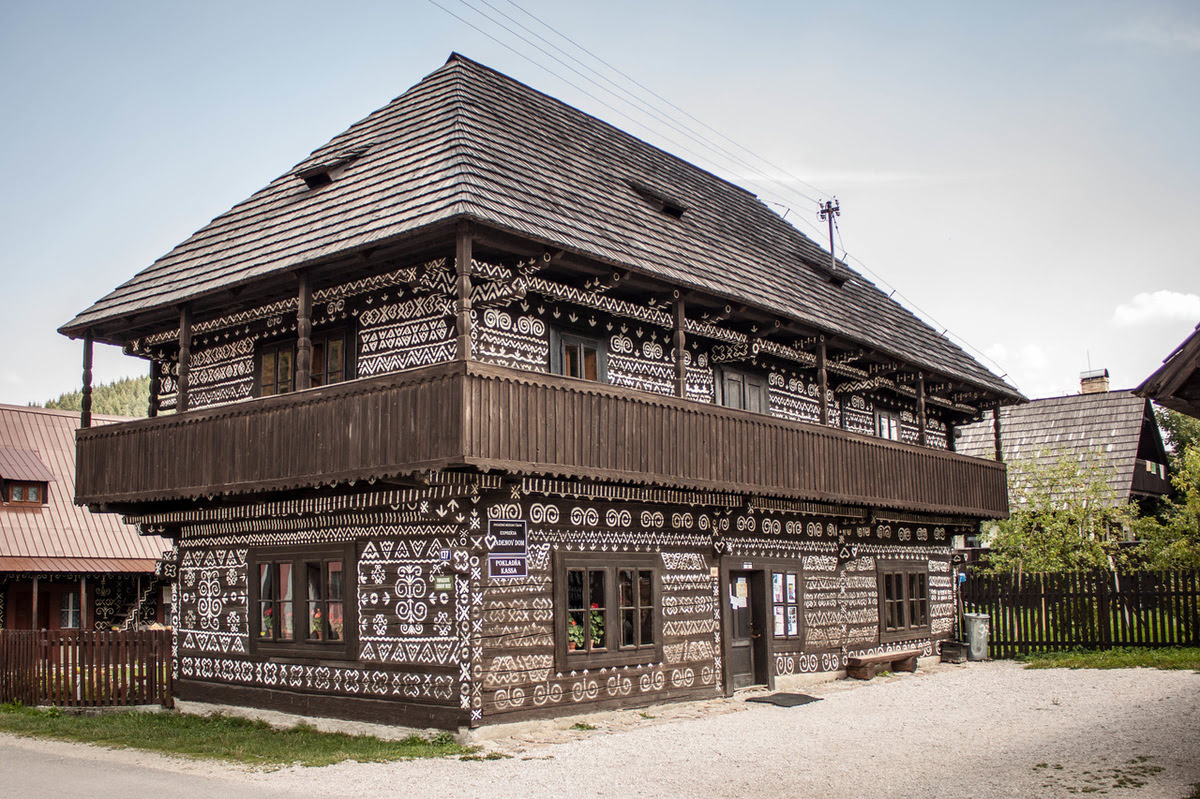 Čičmany are famous for their beautiful houses, which are decorated with a unique ornament known as the "Chichman pattern". This pattern consists of geometric shapes such as squares, triangles and rhombuses arranged in regular and complex compositions. The Chichman pattern has its roots in traditional folk crafts and has been used to decorate textiles, clothing and other household items.
The Chichman pattern is a symbol of the national and cultural identity of the Chichmans and has become an important part of their heritage. Many craftsmen still preserve this tradition and create various items adorned with this ornament. These can be embroidery, outfits, cushions, bedspreads and many other items that perfectly highlight the beauty of the Chichman patterns and traditions that have been passed down from generation to generation.
A walk through the village of Čičmany reveals around 136 log houses, each one decorated with an unusual ornamentation. All the patterns have been painted using white lime, and studies have shown them to be up to 200 years old. There are pictures of animals, birds and various geometric figures. Some of the buildings were destroyed in a fire, while the rest have been fully restored.
The 2010 Olympic Games, which took place in London, were a jubilee for independent Slovakia. In honour of this momentous occasion, the traditional motifs of lodge painting were presented in the country of Foggy Albion. Two years later, at the Sochi Olympics, the Slovakian team wore costumes with elements of the same paintings and ornaments.
As you walk between the houses in the village of Čićmany, you will be able to look at each building. The houses are similar in appearance, but the patterns of each building are different. There are flowers in the windows and verandas everywhere, and some windows are decorated with painted vases and bottles.
Chichman folk dress (Čičmianský kroj)
The Čičmany are known for their unique traditional folk dress, which has its own characteristics and differs from folk costumes of other regions. Women's folk dress includes shirts, skirts, aprons and wide belts decorated with embroidery. The shirts are usually decorated with wide lace on the chest and sleeves, and the skirts have a characteristic pattern reminiscent of the Chichman pattern. Often folk costumes are decorated with beads and pearls.
Men's folk dress includes shirts, waistcoats, trousers and belts. The shirts have a regular cut, but are also decorated with lace on the chest and sleeves. Waistcoats are also usually decorated with embroidery, and trousers have wide trouser legs and embroidery on the sides.
The traditional Chichman folk costume (Čičmianský kroj) is still worn at festivals and celebrations in the village and is part of local culture and history.
Museums
Two buildings in the village of Čičmany deserve special attention: Raden's house (Radenov dom) and Gregor's house (Gregorov dom) or house no. 42. They are well-preserved, so an ethnographic museum was founded on their premises.
Raden's house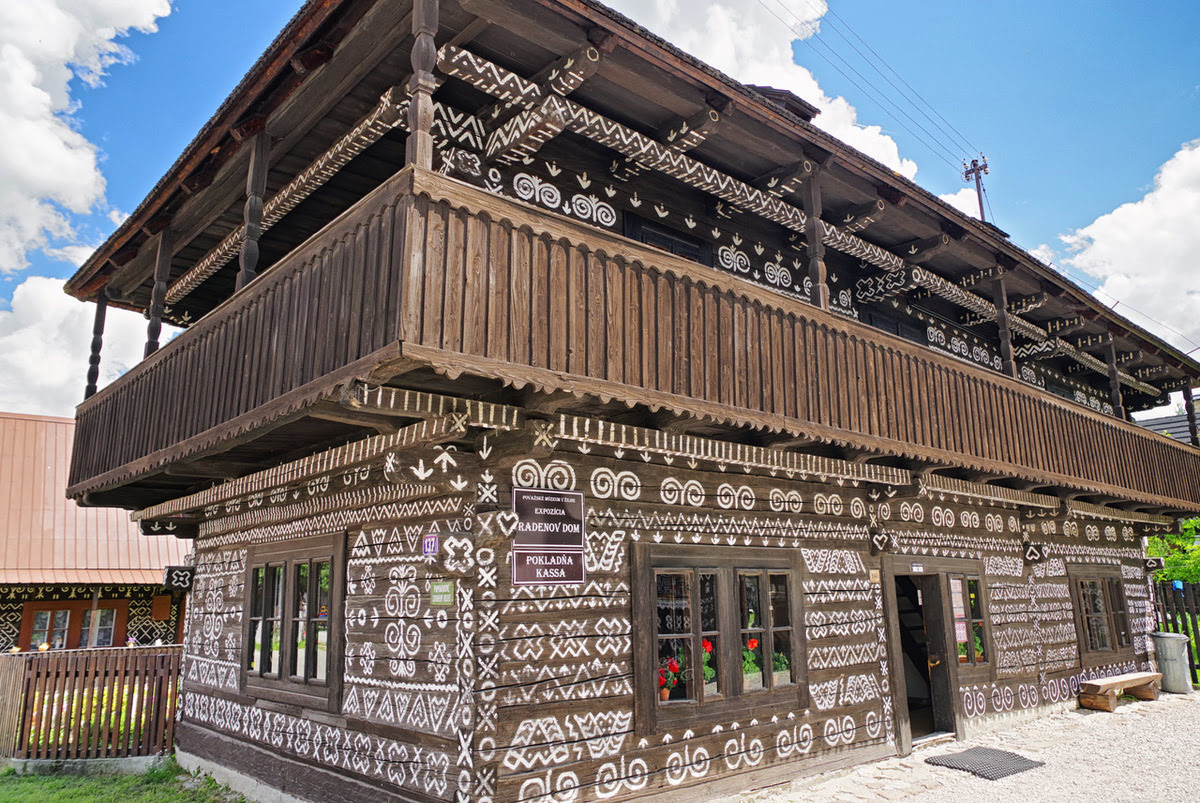 Radenov dom is part of the Považie Museum and is an example of traditional folk architecture in Slovakia. It was built of wood in the style typical of the Čičmany region, with high pitched roofs decorated with wooden ornaments. Inside the house there are exhibits telling about the life and traditions of the Čišmani people in the past.
Visitors can see traditional instruments, wooden toys, national costumes and other items related to the culture and customs of Čičmany village. The Raden House also hosts various cultural events such as exhibitions, concerts and workshops on traditional crafts.
House №42
Gregor's House (Gregorov dom) or House No. 42 was purchased by the Považské Museum, which restored it and turned it into a museum. The museum is a traditional folk dwelling that has been restored according to the original design. Inside you can see the original furniture and everyday items used by the Čičmany people in the past. This unique building allows you to feel the atmosphere of life in the village over a hundred years ago. There are also historical photographs and documents related to the history of the village. This place is definitely worth a visit for people interested in the cultural heritage and history of Slovakia.
Active recreation
Not far from the village there is a small ski resort Javorinka Čičmany. It offers all conditions for a relaxing holiday, in winter guests can go skiing, sledging. There is a ski school, where you can take lessons from qualified coaches. The infrastructure is well-developed, there are ski equipment rentals, luggage storage, as well as cafés and restaurants located right on the slope.
The resort has three slopes of varying difficulty levels. Beginners, children and those who have been skiing for several years can ski here. In addition to the ski slopes, there are two cross-country trails.
There are 5 lifts to take you from one point of the resort to the other.
In the warmer months of spring, summer or autumn, you can go on a camping trip. You can enjoy the beauty of nature, visit natural sites, have a picnic or pick berries, mushrooms and medicinal herbs.
In addition to the main hiking trails, there are interesting cycling routes. When the weather is clear, climbing to the top of Javorinka Mountain, you can see extreme enthusiasts flying paragliders and hang-gliders.
No matter what time of year you come here, you can relax in peace and quiet, explore interesting sites and learn about the local culture. Several times a year there are folklore festivals with performances by creative groups, as well as a variety of refreshments.
In conclusion, Čičmany is a unique village that deserves the attention of all lovers of folk architecture and history. Its traditional architecture and cultural heritage is a true treasure of Slovakia.